The TG-H2 is a new generation receiver, it comes from a new generation of GNSS receivers ultra portable, precision (1 cm RTK) for GIS applications that are quality conscious and demanding in terms of reliability of results.
The receiver, compatible with all IT standards (iOs, android, Windows) is equipped with a single-frequency GNSS chip particularly suitable for harsh environments.
Its very sensitive internal antenna may be sufficient for most situations, but an external antenna is required for centimeter accuracy.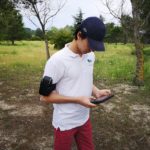 Associated with a terminal like the PA 7 and the software of its choice (Esri collector, TopoXplore, MapitGis, …), it is a solution without subscription and very precise in GIS. Designed for forestry, cartography, GIS, it is useless to choose expensive and inaccurate solutions.
Benefit from the four constellations on your terminal, with a light and powerful mobile.