La société est spécialisée dans la mise en place de solution de cartographie et de SIG Mobile, ainsi que de relevés topographiques.
Nos solutions s'adaptent aux nombreux domaines pouvant avoir besoin de solution de mobilité : Aménagement du territoire, Foresterie, Transport, Industrie, Agriculture, Environnement, Mine, Milieux aquatiques et maritimes, Construction et BTP, etc.

Nous vous aidons à concevoir votre solution dans une optique de modularité et d'évolutivité, par rapport à vos besoins et à vos besoins futurs.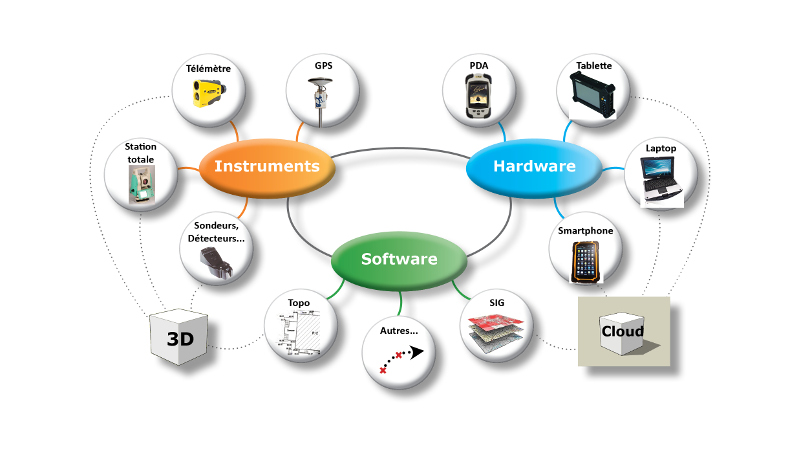 Issus du milieu de la cartographie, nous nous sommes spécialisés très vite en travaillant temps réel sur tablet pc, dès 2004 avec une tablette Fujitsu Siemens et le premier récepteur sub métrique bluetooth temps réel  au monde, le SxBlue.
Nous sommes les premiers à tester cette technologie en Europe. Depuis cette époque, nous avons testé tous les gps en Europe qui étaient proposés, d'abords par Geneq, la gamme des SxBlue, puis par Eos Positioning Systems, la gamme des Arrow.
Architecturés sur des puces GNSS Hemisphere, ces récepteurs demeurent les seuls à travailler en DGNSS sans pertes de corrections sur toute une journée de travail.
Nos solutions pour résumer s'organisent sur deux types de récepteurs, mono fréquences et multi fréquence, les solutions bi fréquence, bien que fonctionnelles sont dépassées.
Les solutions s'articulent autour de trois composantes qui sont :
Les instruments de mesures et de relevés, que se soit pour le géo positionnement (GPS, télémètre,etc.), la bathymétrie, les détecteur de canalisation,…
L'ordinateur de support, ou Hardware, durcis pour supporter des conditions de terrain, que ce soit des Smartphones, PDA, Tablette ou encore Laptop.
Le logiciel de saisie, ou software, qui permettra de récupérer, visualiser et sauvegarder les données terrain pour les ramener au bureau.
[/vc_column_text]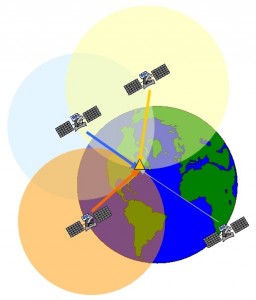 Fonctionnement du GPS / GNSS
SBAS / LBAS
Atlas
Les Datums
Fonctionnement en SBAS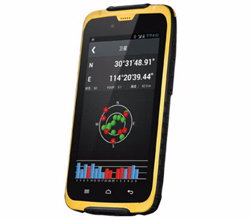 Guide d'achat pour un équipement GNSS/SIG

Un Récepteur GNSS est-il la seule solution de relevés ?

Récepteurs ou "stand-alone" ?
[/vc_row]

The company is specialized in the implementation of mapping and Mobile GIS solutions, as well as topographic surveys.
Our solutions adapt to the many fields that may need mobility solutions: Land use planning, Forestry, Transport, Industry, Agriculture, Environment, Mining, Aquatic and maritime environments, Construction and Public Works, etc.
We help you to design your solution with a view to modularity and scalability, in relation to your needs and future requirements.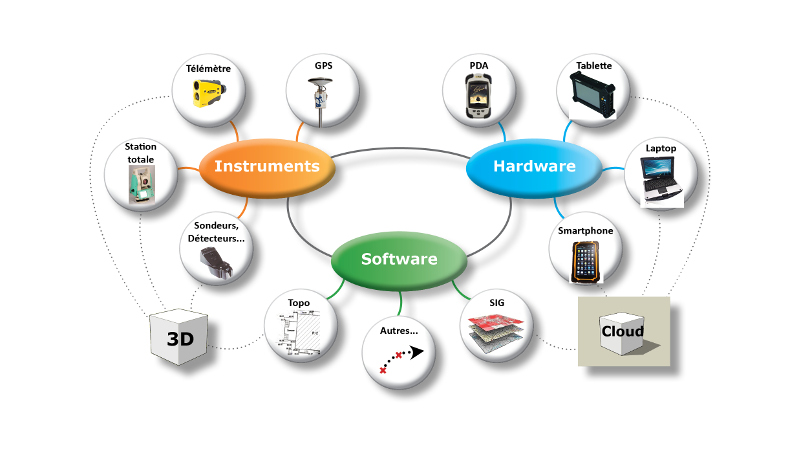 Coming from the cartography world, we specialized very quickly by working in real time on tablet pc, since 2004 with a Fujitsu Siemens tablet and the first real time bluetooth sub-metric receiver in the world, the SxBlue.
We are the first to test this technology in Europe. Since then, we have tested all the gps in Europe that were offered, first by Geneq, the SxBlue range, then by Eos Positioning Systems, the Arrow range.
These receivers are based on Hemisphere GNSS chips and are the only ones to work in DGNSS without loss of corrections over a whole working day.
The solutions revolve around three components which are :
Measuring and surveying instruments, whether for geo-positioning (GPS, telemetry, etc.), bathymetry, pipe detectors,…
The support computer, or Hardware, ruggedized to withstand field conditions, whether Smartphones, PDAs, Tablet or Laptop.
The data entry software, or software, that will allow you to retrieve, view and save field data and bring it back to the office.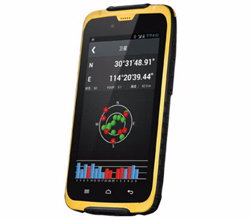 Buying Guide for GNSS/GIS Equipment
Is a GNSS Receiver the only solution for surveying?
Receivers or "stand-alone"?