OnPOZ Precision Positioning Software
OnPOZ Precision Positioning Software is a complete suite of applications that allow you to easily and accurately collect, record and post-process geospatial data.
Whatever your needs are in terms of precision, we have the solution for you.
EZSurv®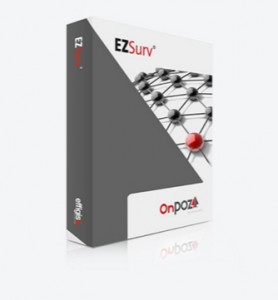 EZSurv is GNSS Post-Processing software that provides a reliable and efficient RTK offline solution to improve the accuracy of your survey or GIS data.
Post-processing at your fingertip
Use EZSurv GNSS Post-Processing software:
to play back your RTK survey for QA control (Post-Processed Kinematic – PPK)
to make corrections to non-RTK GNSS field data (Post-Processed Kinematic – PPK)
to calculate high accuracy baseline results (Static and Rapid Static)
to significantly improve GIS data accuracy
Reliable and flexible solution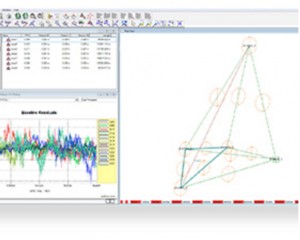 EZSurv is a reliable and effortless solution that allows seamless data post-processing between different GNSS receiver native formats.
This real value-added step can be easily integrated into your current RTK process or your GIS data integration loop.
EZSurv is an open solution that processes GPS, GLONASS, Galileo and BeiDou signals from different types of receiver brands. It is compatible with industry standard data collection software.
Options that suit your needs
As in RTK mode, EZSurv can either use your own base station data or automatically connect to different base station providers. This flexibility allows you to retrieve the closest base station data required to compute accurate rovers' positions in post-mission.EZSurv can also generate OminiStar/WADGPS/StarFire equivalent point positioning accuracy (Precise Point Positioning) by using post-mission precise orbit and clock data calculated by different international agencies.
EZSurv is available in different versions depending on your receiver type (single/dual frequency) and the accuracy level that you require.
EZTag CE™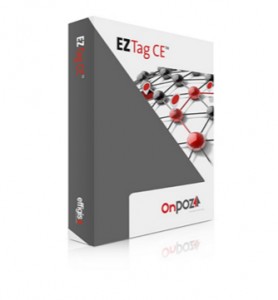 EZTag CETM is geospatial data acquisition software. This professional solution enables GNSS/GIS data capture and management, and it includes an efficient GIS viewer.
Data collection made easy
EZTag CE allows you to easily collect geospatial data, including points, lines and polygons, along with their specific attributes. Ready-to-use without programming, the EZTag CE data dictionary editor manages simple and relational data models. Users can customize the data capture properties to match their own office database structure.
Other benefits:
The EZTag CE Plan View swiftly and efficiently displays vector and raster map data, along with collected GNSS features.

To ensure the very best accuracy from the mobile GIS/GNSS unit of your choice, EZTag CE allows you to collect valuable GNSS observations, necessary for post-processing.
Ready for post-processing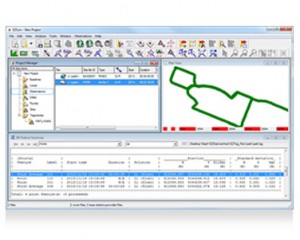 When combining EZTag CE's data collection and EZSurv's post-processing power, you can count on effortless post-processing at a single keystroke.
EZSurv automatically post-processes your data using GNSS base stations located around the world. Post-processing enables greater accuracy and reliability: a must when it comes to data integrity.
EZField™
EZField is powerful yet easy to use survey software for collecting GNSS survey data, including points, lines and polygons.
Data acquisition software for surveying with an L1-GNSS system
EZField is especially designed to facilitate and manage GNSS data acquisition for accurate post-mission surveying (cm). It handles multiple GNSS receiver brands and all types of field operations: static, semi-kinematic and kinematic.
Simplified post-processing solution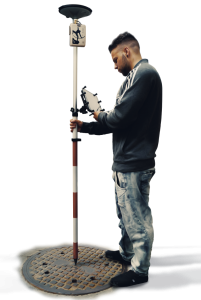 By combining EZField with EZSurv, you can count on one of the easiest post-processing solutions to use. EZSurv is fully automated in post-processing GNSS observations using your own GNSS base or network of GNSS bases available world-wide. Post-processing offers better precision and greater reliability: the essential elements to ensure the integrity of your georeferenced databases.
Ready for cost-effective land surveying
EZField is a proven data collection solution that transforms a low cost GNSS-L1 receiver into a powerful centimeter accuracy device. Used along with EZSurv post-processing software, you can achieve high accuracy results at a fraction of the cost of a dual frequency system. EZField and EZSurv is the most reliable combination currently available on the market to ensure post-processed centimeter accuracy positions using single frequency GNSS-L1 receivers in semi-kinematic mode. When using EZField along with EZSurv post-processing software, you can count on effortless post-processing at a single keystroke.
OnPOZ EZSurv: GNSS Post-Processing made really easy