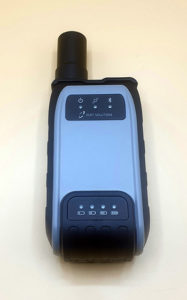 The TG-U1 is a GNSS receiver with either a helical antenna or a topographic antenna that can be placed on a survey pole. Its precision is 50 cm RMS in SBAS and 1 cm in RTK.
Yes, you can enjoy 1cm accuracy on your smartphone using ArcGIS Field Maps from Esri or any other software of your choice, Hypergis, Mapit Spatial, Mapitgis, LocusGis etc.
Designed for use with a wide range of mobile devices, smartphones, tablets and laptops, the TG-U1 incorporates foolproof universal Bluetooth® wireless technology, which works with Android or Windows devices, making it the hardly obsolete and versatile on any platform.
Use the software (s) of your choice!
With the TG-U1, you won't be tied to field data entry software or to a quickly obsolete terminal; if your phone has a good screen, you can work down to the centimeter
The TG-U1 provides 1cm of RTK precision for any application, on your terminal, even Google Maps!
All satellites, all signals.
The TG-U1 incorporates high-end features that place it among the best performing receivers in the world. It uses all the constellations of existing satellites (GPS, GLONASS, BeiDou, SBAS) as well as emerging and planned constellations (Galileo and QZSS) to provide high-end performance, 1cm in RTK, or 50 cm in dgps.
Its value for money is a new step in the world of precision gps.
The TG-U1 offers maximum flexibility.
Used with your smartphone, tablet or laptop, it can provide real-time 1cm accuracy when connected to an RTK network or RTK fixed station.
You must take surveys without carrying your survey pole, the TG-H1 has an internal antenna for SBAS or more precise surveys, for the centimeter, just connect the receiver to the external antenna.
Main characteristics
Support for all four GNSS constellations (GPS, GLONASS, Galileo, BeiDou)

100% Android, iOS, Windows compatible.

1cm RTK real-time precision.

Support for ESRI®, other mobile GIS software

Bluetooth, Serial port