Team 3GRT you to create the field data collection solution for you according to your needs and possible changes, choosing each component of "your" solution, and that, in the sake of modularity, d economy and scalability.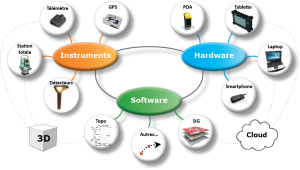 Solutions revolve around three components which are:
Measuring instruments and records, whether for geographical positioning (GPS / GNSS, rangefinder, etc.), bathymetry, 

the line detector, etc.

The support computer or Hardware, hardened to withstand field conditions, whether smartphones, PDAs, tablet or laptop.


The capture software, or software that will retrieve, view and save the field data to bring them to the office.



Find applications or hardware that matches your professionnal field!
Available Products from 3GRT
All

Applications

GNSS Data Collector

GPS/GNSS Receiver

GNSS Server

Rugged Tablet

Rangefinder